Problem of 3D printer tolerance
If you've tried 3D print with more than two parts to fit, you definitely have thought about 3D print tolerance.
I often have a tolerance problem and look for solution whenever it happens. Hope this article helps you minimize it.

I think there are several basic solutions for the problem of 3D printing hole tolerance, though the causes may vary. Here I'd like to share three of them, what I think important to maintain the quality of 3D print.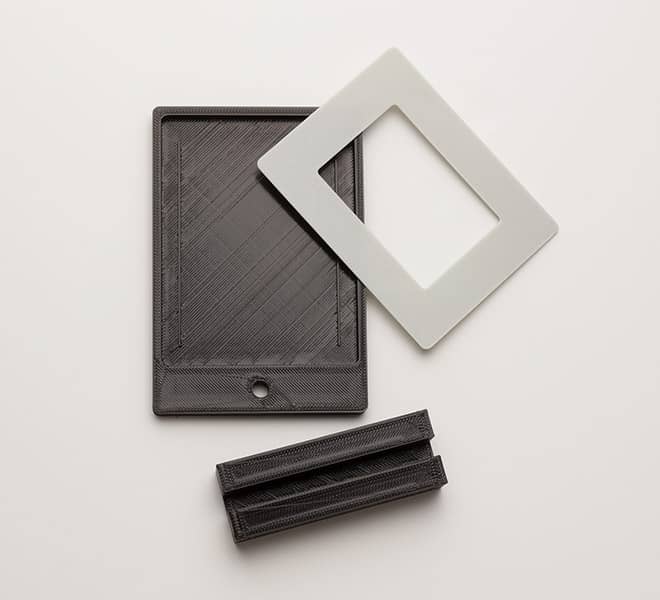 As you see, I have three parts (back, front and stand) for my product, an Instax frame called Mini Memories.
Usually, too-loose tolerances will result in parts that are sloppy and don't fit together. Too-tight tolerances will result in parts that don't fit together at all.

For this product, I made the tolerance 0.2 mm (a little tight for long term use), means the inner part is 0.2 mm smaller or the outer part is 0.2 mm larger.
The main causes
But you know, 3D printers don't make exactly the same prints by the same STL files of the 0.2 mm tolerances.
Sometimes the parts are printed slightly smaller or larger, maybe about 0.1 mm in case of my printers. What causes this kind of problem? For me, the main causes are like below.
Material: quality of filament
The material, 3D printer filament affects the printing quality including dimensional precision. You'll get a low quality print (also for the tolerance of 3D printing) by the low quality filament.
I think if the filament is terrible, you can't help it by the hardware (nice printer in good condition) or software (detailed, proper slicer setting). Maybe it could be a bit better, but that's limited.
Temperature & printer condition
Maybe you've heard that 3D printing in winter is usually harder. It is, just because it's cold. The temperature affects dimensional precision and 3D printer tolerance – the temperature in and around the chamber (if your printer has it).
Condition of the printer (things like nozzle sharpness, etc.) affects 3D print tolerance as well. So you need to check regularly if your printer is in good condition.
My ways of troubleshooting
My solutions are not special, but basic you might have tried. Avoid too cheap filament, prepare different sized models, and always check before packing (or sending it somewhere). This is what I came to know from my 3D printing experience.
Avoid too cheap filament
I think there could be cheap and good filament. But better materials are more expensive. I recommend, just don't use too cheap filament.
And "changing filament" is the easiest – usually easier than re-setting the options of the slicer and trying new prints many times.
Prepare different sized models
I have at least 3-4 different sized models for the same part. If I find today's prints are slightly bigger than yesterday, I change the model to 0.1 mm smaller one, to fit in another part from yesterday. So you'd better learn to model and make your own models if you don't do it yet.
It will take time to get used to the 3D modeling software. You can learn only basics like scaling, let professionals do the modeling job and revise it as you like. You can buy 3D models on Adobe Stock or similar platforms (license needed for commercial use).

Revising STL is not impossible but kind of limited, so it's always better to learn and use the 3D modeling software. Actually, I'm still learning it.
Always check before packing
Maybe this is not applicable, if you 3D print only for yourself. But if you print for others, especially you sell your prints, it's necessary for you to check the 3D print tolerance fits for each part and product. Fit them all before packing.
There could be complaints even if I do like this, because some people feel it slightly tighter or looser than I feel. But you can avoid big complaints anyway.
Perhaps, at least some of you are interested in selling your 3D printed objects like I'm doing. Then you definitely need quality control, including 3D printing hole tolerance, for the commercial product.
Hope you find the best possible tolerance for your needs (depends on what your prints are for) and troubleshoot to maintain it.
How to make animated video for 3D print
Special options for PLA filament colors