Create animated video easily
There are many ways to make animated video with your photo of 3D print. I already introduced one in the previous article, and I'd like to show you another, maybe the cutest way to make a simple video for your 3D print.
VLLO is a popular animation video maker app. I think a lot of people (maybe including you) use this app for work, to make their product videos or something.
Product video is usually focusing on filming a product, but we can make it with a still image while having other assets in motion – like a toaster (not moving) with a twinkling bread (moving), etc.
Mobile video editors like VLLO give you that twinkling bread, as an animated cartoon or a motion sticker. If you already have a photo of your 3D print, try VLLO or similar apps and create animated video in a second.
Actually, the only thing you need to do is choosing the sticker that goes well with your 3d print.
Start with a photo of 3D print
Here I have a photo of my 3D print, Secret Garden planters and markers. Since I wanted "moving something" above my products, I cropped the photo like this, with enough space above the planters.
Open VLLO, start a new project and select media (your photo). Pick the screen ratio (1:1, 16:9, 9:16, etc.) you want.
Then you'll see your photo on the video timeline like the screenshots below. You can make the duration shorter or longer. Since I wanted one or two different stickers moving on my photo, I copied the clip for "pasting one sticker on each clip".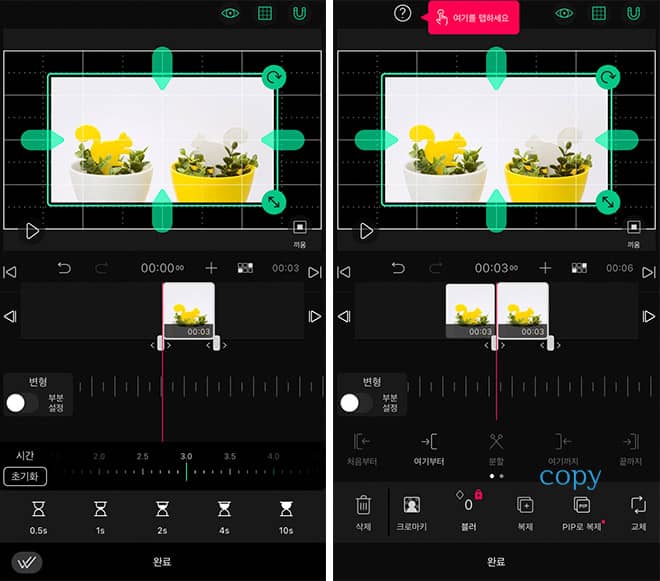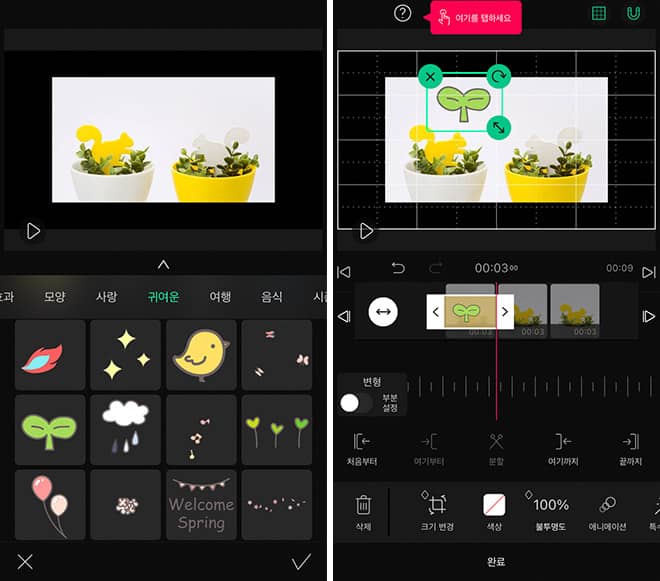 Vllo: animation video maker app
Do you like the leaves and the birds with my products? I chose them that would look good on the Secret Garden planters. Hope you find the right stickers for your 3D print.
With these "moving" stickers, you can add movement to your images as well as make them look active. Short videos made by VLLO would be nice for Instagram posts and stories if you also need.
Enjoy an easy animation maker
Just choose the motion sticker after putting your photo on the timeline. That's all. Replace, resize or paste multiple stickers.
You can see each sticker (leaf, leaf, bird) is pasted on each 3-second clip as I mentioned. Export your video if you finished editing.
I saved the outcome as a movie, so you can see the motion. Unfortunately, the free version includes black frame.
You'd better decide to subscribe or not, after browsing stickers and other features. Then you can make animated video easily and enjoy moving photos without watermark or things like that.
Other video & photo editors
I also linked two more articles that you might be interested. They also show you how to use your photo of 3D print, to make a new image or video with it. Hope you present your 3D print in more various ways and let me know how you do it.

As an easy animation maker, VLLO also has moving labels (with your text) to use for a short intro. You can try them if you think all those motion stickers are a bit too cute!

It's good to have more and more apps to try and have fun with. I'm sure you can enjoy videography more with these mobile applications and make your creative moving pictures.
I'll definitely show you how to create animated video in other ways, in the next "video makers" articles.
How to make video with photo of 3D print
How to add background to PNG of 3D print