Introduction
Art, in its infinite expressions, captures the essence of time. Sculpture, one of its most tactile and tangible forms, has been a testament to this journey. For centuries, artists painstakingly chiseled away at unforgiving blocks of stone and other materials, embodying their visions in physical form. Every strike of the chisel, every nuance carved, told a tale of passion, patience, and craftsmanship. But as with all things, time ushers change. Today, the hum of a 3D printer might be heard alongside the familiar tap-tap-tap of the chisel in art studios.
The digital age, known for disrupting countless sectors, has not spared the world of art. With 3D printing, the realm of sculpture is undergoing a transformation, blending age-old traditions with the limitless possibilities of modern technology. Join us as we explore this fascinating evolution, from the time-honored chisel to the state-of-the-art 3D printer.
Hand-Crafted Beauty: Delving into Traditional Sculpting Techniques
From ancient civilizations to the Renaissance period and beyond, sculpture has been a powerful medium to capture human emotions, myths, tales, and histories. The primary tools? A chisel, mallet, and the artist's imagination.
Historically, sculpting was a labor-intensive process. The artist began by selecting the right material – often marble, stone, or wood. Michelangelo's David or the statues of Greek gods were not just feats of imagination but testaments to the intricate skills these artists possessed. Working with a chisel required not just artistic vision but an in-depth understanding of the material. A single misjudged strike could render hours of work futile. Artists had to account for the grain, potential weaknesses in the material, and its reaction to different forces. It was a delicate dance of power and precision.
Beyond the mere act of carving, traditional sculpting techniques also encompassed various methods like casting, molding, and constructing to bring art to life. Techniques such as lost-wax casting, used in bronze sculpting, have been practiced for millennia and showcased the ingenious methods artists employed to make their visions tangible.
Revolutionary Ripples: How 3D Printing is Reshaping Sculptural Art
Fast forward to the 21st century, where the digital age has imbued itself into art. 3D printing, once a figment of sci-fi imagination, is now a reality that's challenging the status quo of sculpture.
At its core, 3D printing, or additive manufacturing, involves creating a physical object from a digital design by layering material. Artists now have the ability to conceptualize a piece, design it using software, and then 'print' it into existence. This method offers an unprecedented level of precision. Details, which would have taken days or even weeks to chisel out, can now be perfected digitally and printed with exactness.
But it's not just about ease or precision. 3D printing is expanding the material palette available to artists. Beyond traditional materials, artists are experimenting with plastics, resins, metals, and even mixed media. This offers a new frontier of textures, strengths, and aesthetic appeal. Moreover, with the advances in technology, larger, more intricate sculptures are becoming possible. Think of multi-part installations or even kinetic sculptures, where movement becomes a part of the artwork.
Another avenue that 3D printing opens up is reproducibility. Artists can produce limited edition prints of their sculptures, making art more accessible while still retaining its exclusivity.
Blending Old with New: Chisel and 3D Printer in Harmony
Purists may argue that 3D printing lacks the human touch inherent to traditional sculpting. But rather than viewing these techniques in opposition, it's more enriching to see how they can complement one another.
Many contemporary artists merge both worlds, using 3D printing for rapid prototyping. This allows them to visualize and make adjustments to their designs before committing to the labor-intensive process of chiseling or casting. It's a marriage of the tactile satisfaction of traditional techniques with the precision and adaptability of modern technology.
Moreover, in the realm of restoration, 3D printing is proving invaluable. Imagine ancient statues, eroded by time or damaged by calamities. With 3D scanning and printing, restorers can recreate missing or damaged parts with astonishing accuracy, paying homage to the original artist's intent.
Lastly, the dialogue between traditional and modern sculpting is also a reflection of our evolving relationship with art. As audiences, we're learning to appreciate both the painstaking craftsmanship of hand-chiseled works and the innovative possibilities brought by 3D printing.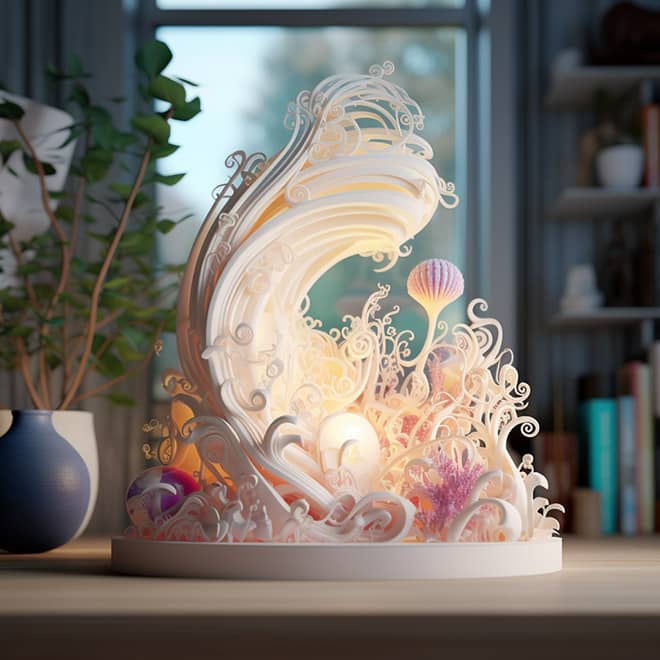 Conclusion
The journey of sculptural art, from the rugged touch of the chisel to the refined hum of the 3D printer, is a testament to humanity's unending pursuit of expression and innovation. While the tools and techniques may evolve, the essence of artistry remains constant — a desire to capture, convey, and connect. In a world where the old often makes way for the new, sculpture offers a rare bridge, where tradition and technology coalesce harmoniously.
As we stand at this crossroads of history and innovation, we're reminded that art, in all its forms, is timeless. Whether through the textured strokes of a chisel on marble or the precise layering of a 3D print, the spirit of creativity endures. In embracing both, we honor the legacy of past artisans while heralding a vibrant, limitless future for the world of sculptural art.
Boost Creativity with Unique 3D Printed Room Decor: A Comprehensive Guide
3D Printing for Home Decor: Exploring Materials and DIY Possibilities