Print with Thingiverse Eiffel Tower
If you can't fly to Paris right now, 3D print Eiffel Tower instead! As a passionate 3D printing enthusiast, I am always on the lookout for new ideas and inspirations for my projects. One such project that I recently undertook was the creation of a miniature version of the iconic landmark – the Eiffel Tower, through the art of 3D printing.

For those of you who share a passion for 3D printing and are seeking your next project, I highly recommend checking out the wide range of designs available on Thingiverse, including the popular Eiffel Tower Thingiverse collection.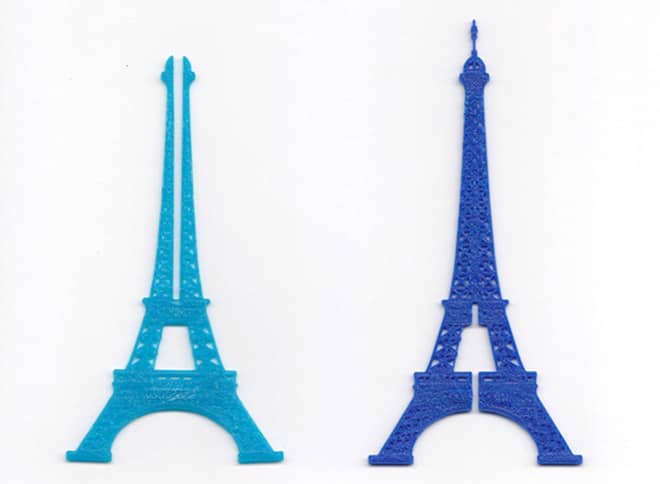 Whether you are a seasoned veteran or a newcomer to the world of 3D printing, there is always something new to be discovered and created. So why not join the community and bask in the beauty of your own 3D printing creations?
"Flat" 3D printing Eiffel Tower
My quest for the perfect design to bring my 3D print Eiffel Tower vision to life led me to the vast repository of designs available on Thingiverse. As many of you may already know, Thingiverse is a thriving online community where makers, artists, and designers from all over the world can share, collaborate, and build upon each other's creations.
After scouring through the various designs available on the platform, I stumbled upon a design created by the user "Physics_Dude". This two-piece "flat" tower design was not only aesthetically pleasing but also incredibly efficient and time-saving, making it the perfect choice for my quick 3D print Eiffel Tower project.
Two flat parts to assemble
And so, with the design in hand and my trusty 3D printer, I set out to bring my vision to life. The result was a cute, purple ABS 3D-printed Eiffel Tower, placed atop a book "Eiffel Style" that served as the source of inspiration for this project.
Although the book may be covered in the Korean language, the vibrant images within can still be appreciated by all, regardless of language barriers.
3D print Eiffel Tower by my printer:
Hardware: Cubicon Style (FDM made in Korea)
Software: Cubicreator, no support thanks to the flat models
Estimated time: 01:00 (ABS), 01:00:28 (PLA, also tried)
Filament cost: 5.78g (ABS), 6.94g (PLA)
Interesting facts about Eiffel Tower
What is particularly intriguing about the Eiffel Tower is the fact that it was almost never built. Its designer, Gustave Eiffel, had to overcome numerous challenges and obstacles to make his vision a reality, including concerns about its aesthetic impact and fears that it would collapse.
Nevertheless, Eiffel persevered, and the result was a structure that stands over 300 meters tall and weighs over 10,000 tons.
Unexpectedly versatile
In addition to its impressive height, the Eiffel Tower is also remarkable for its versatility. Over the years, it has served as a radio tower, a weather station, and even as a beacon for French aviators during World War I.
Today, it is one of the most popular tourist attractions in the world, offering breathtaking views of the city of Paris and beyond.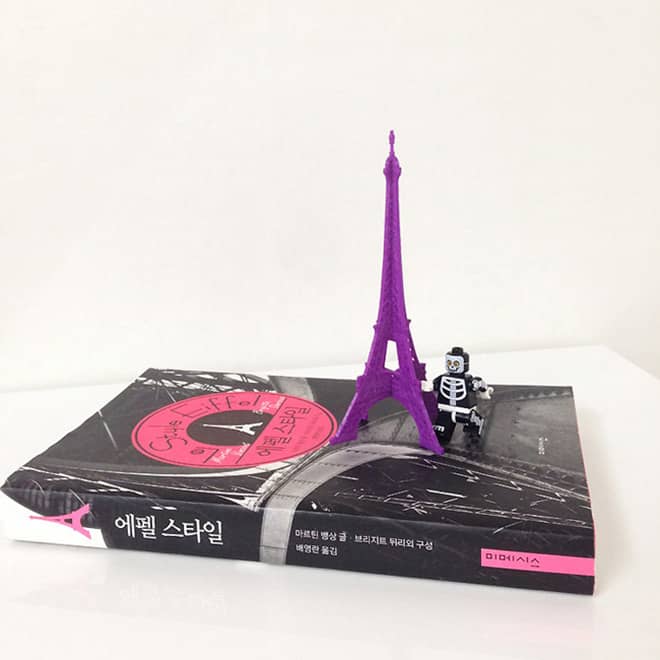 Lovely symbol of Paris
So the next time you gaze upon your own Eiffel Tower Thingiverse creation, take a moment to appreciate the ingenuity and determination that went into creating the original.
The Eiffel Tower is a testament to the power of imagination and the pursuit of excellence, and its enduring popularity serves as a reminder of the impact that one person's vision can have on the world.
Did you also make your Thingiverse Eiffel Tower? Then reflect on the rich history and cultural significance of the original. The Eiffel Tower is more than just a building; it is a symbol of resilience, ingenuity, and the enduring power of human creativity. How nice that you can print your mini Eiffel Tower in an hour!
What you need to know about 3D print tolerance
How to make animated video for 3D print