Deep autumn palette from the forest
Suddenly, winter is coming, and I've made another autumn palette for the short season. Today's one is from the beautiful forest – it's a deep autumn color palette like the forest, inspired by the work of Henri Rousseau.
Rousseau is known as a "Sunday painter". He spent most of his life in the profession of customs officer and started painting seriously at the age of 40. Then he retired from his job when he was 49, to paint full time.
His naive, childlike scenes have something attractive that the established art techniques can't give. I think I came to like his paintings more after I got older.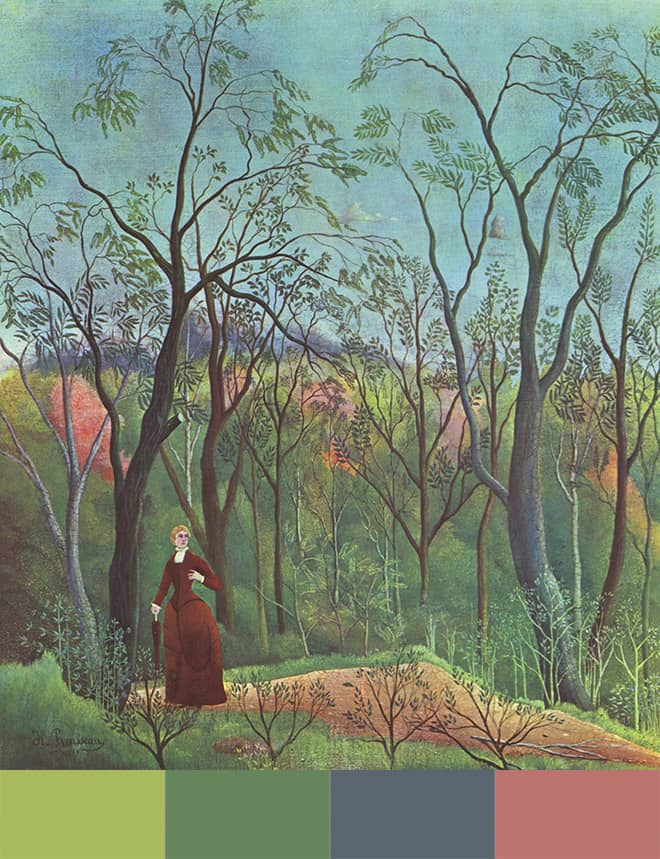 It's not a jungle that he often painted, but The Walk in the Forest looks mysterious like his other pictures of jungle.
We don't know what the lady is looking for in the forest, but the colors are enjoyable enough. Today's first fall color scheme is deep, generally tranquil, but has a bit of brightness as well with the green.
Make a deep autumn color palette
I use Adobe Illustrator to pick colors and make my palettes. Maybe a mobile app like Pantone Studio is more accessible for the most of you who don't use Illustrator for your works. Here I summarized today's deep autumn palette like below.
CMYK: 41, 15, 73, 0 | 67, 40, 73, 0 | 72, 59, 51, 4 | 31, 62, 50, 0
Web: #A7BB5F, #65855B, #5B666E, #BA756E
Mood: deep, maybe in between warm and cold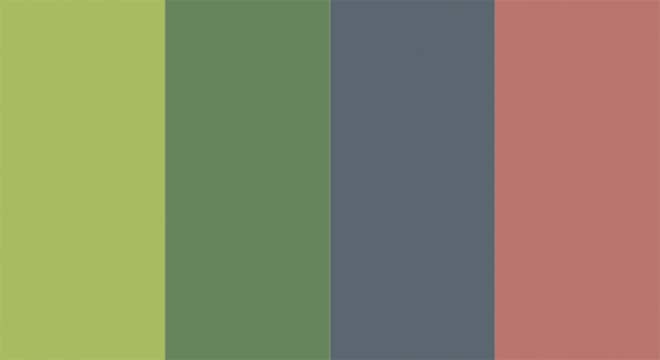 Get inspired with an autumn palette
Did you know, Henri Rousseau had never been to a jungle, though he painted jungle many times? I think it made his paintings look surrealistic (sort of), in his way.
So we can imagine somewhere we've never been and express it, in our own ways, whether it's a painting, a palette or whatever.
Maybe your favorite artist and picture come to your mind when you think about the colors for autumn. Then you can start with the artist – bring their aesthetic colors and make your art-inspired palette.
Or you can paint – in your way when it's a 21st century. I think 3D printing is one of my ways of painting, and you definitely have yours!
Cool autumn palette of Rousseau
I also want you to visit Wikiart and enjoy more works of Henri Rousseau. I especially hope you see the Football Players and smile!

Being a self-trained artist in his time may not that easy, but we can tell he liked it no matter what difficulties.
It was sorry that the painting establishment ridiculed his artistic style. But he regarded himself highly (fortunately!) and kept going with his art.

Here I made another autumn palette picked by the same picture. This one is kind of cool autumn color palette with the sophisticated, grayish tone. Maybe cool "summer" palettes would be more blue, but this is for autumn, as you know.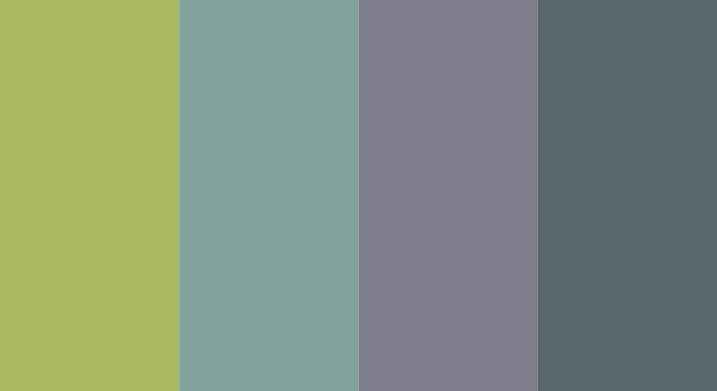 Other deep color palettes
Finally, I linked an article of the "forest" colors by Renoir from my old blog, replay404.com, that you might be interested. I think I'll make a new palette with Renoir's colors, maybe before the winter ends.

How was travelling unknown forest with Rousseau, after European cities with Chirico and American cities with Hopper?
I don't know where to go with the next palette, but it definitely somewhere colorful.
Soft autumn palette inspired by Edward Hopper
Yellow and green color palette from Chirico