Introduction
Drenched in regal magnificence, the color Royal Purple has a captivating allure that transcends the boundaries of time. This deep, vibrant shade of purple has been intertwined with royalty, power, and luxury since antiquity, making it one of the most historically significant colors in the world. Its mesmerizing hue, rich in depth and intensity, conjures an air of opulence and nobility that few other colors can match.
In this article, we will explore the compelling world of Royal Purple. We'll unravel the symbolic meaning of this resplendent color, delve into its fascinating historical roots, and explore how this illustrious hue has influenced design and fashion. Let's embark on this color journey, uncovering the intriguing facets of Royal Purple and its enduring appeal across the centuries.
Symbolism Unveiled: The Meaning of Royal Purple
Imbued with a regal aura, the color Royal Purple has an illustrious history that transcends the boundaries of time, with a long-standing association with power, nobility, luxury, and wisdom. This captivating shade, a vibrant blend of the calm stability of blue and the fierce energy of red, is far from ordinary. It possesses a striking depth, compelling mystery, and a touch of magic that is as enchanting as it is intriguing.
There's an inherent dignity and grandeur linked with Royal Purple, a testament to its frequent adornment by kings, queens, and emperors throughout history. The name "Royal Purple" in itself is a reflection of this prestigious connection, a nod to its noble lineage and the distinct honor it holds within the realm of colors.
Moreover, Royal Purple is more than a mere visual delight; it plays a significant role from a psychological perspective. It has a unique way of stimulating the mind, sparking a sense of high aspiration, and inviting deep, reflective thought. The color's rich intensity resonates within us, fueling a flame of passion and igniting a surge of creativity. It has a way of enticing the mind, nudging us towards uncharted territories of imagination and innovation.
At the same time, amidst its royal radiance and rich intensity, Royal Purple emanates a soothing calm. Its luxurious undertones foster an environment of peace and tranquility, providing comfort to the eyes and the mind alike. It encourages us to pause, breathe, and revel in a moment of serenity, even as its regal charm continues to captivate our senses.
In essence, Royal Purple is a beautiful paradox, a majestic blend of power and peace, intensity and comfort. It embodies a legacy of nobility and wisdom, carries an aura of mystery and magic, and fosters a space for passion and reflection, truly making it a color fit for royalty.
Tracing Time: The History of Royal Purple
The story of Royal Purple takes us on a journey through time, starting with the ancient Phoenicians. This seafaring civilization located on the eastern Mediterranean coast discovered the method of extracting a rich purple dye from sea snails, creating the first-ever Royal Purple dye. This dye, famously known as Tyrian purple, was extraordinarily expensive due to the thousands of snails needed to produce a small quantity.
As a result, this deep, enchanting hue became synonymous with wealth and nobility, with the Roman Emperors and Byzantine rulers often seen clad in Royal Purple. The color was so closely guarded that, at certain points in history, laws were enacted to restrict its use to only the royal class.
Over time, the production methods evolved, and the color became more accessible, but its association with power, wealth, and luxury remained, leaving an indelible mark in the annals of color history.
Aesthetic Appeal: Royal Purple in Design and Fashion
The timeless allure of Royal Purple is evident in its enduring influence in design and fashion. This regal color has found its place in a variety of aesthetics, from the opulence of royal courts to the runways of Paris and Milan.
In fashion, Royal Purple is often associated with elegance, sophistication, and a bold sense of style. It can be a statement color for evening gowns or a vibrant touch in accessories. The color's versatility allows it to be paired effectively with neutrals, pastels, and even bold colors, showcasing its adaptability and enduring appeal.
In interior design, Royal Purple is used to create striking, luxurious spaces. It's often incorporated into velvet upholstery or satin drapes to intensify its rich, luxurious feel. It can also be used as an accent color to add a touch of sophistication and richness to a more neutral palette.
In branding and marketing, the use of Royal Purple can convey a brand's quality, luxury, and exclusivity, making it a powerful color choice in these contexts.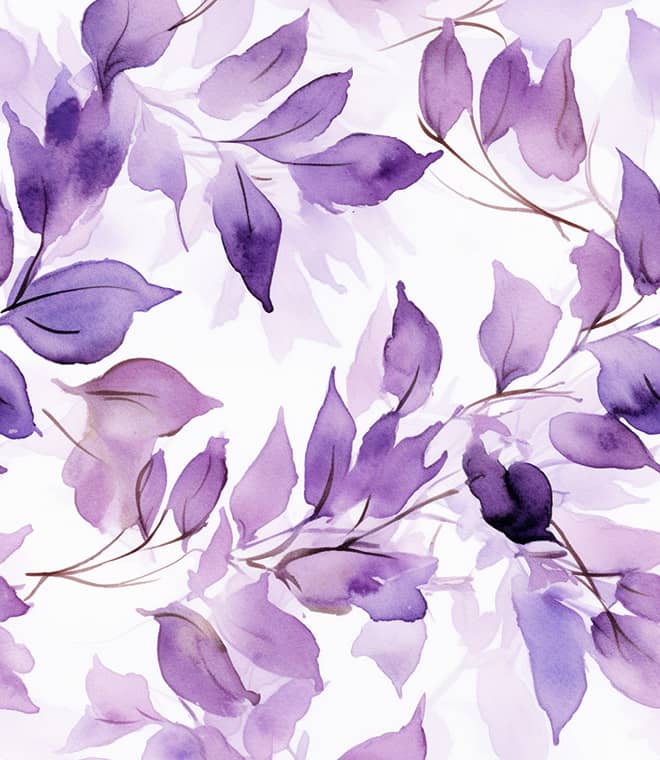 Conclusion
As we conclude our exploration of the Royal Purple color, we stand in awe of the majestic narrative that this hue has painted through time. From its earliest extraction from sea snails by the ancient Phoenicians to its present-day application in the realms of design and fashion, Royal Purple continues to exude its regal radiance.
This captivating color, so deeply woven into our cultural fabric, has more than lived up to its name. Whether gracing the royal attire of ancient rulers, influencing the aesthetics of modern interior designs, or making a bold statement on global fashion runways, Royal Purple truly rules the roost.
In essence, Royal Purple is not just a color; it's a symbol of prestige, luxury, and wisdom, offering an unmatched depth and richness. As we move forward, this iconic hue's legacy continues, inspiring, and captivating us with its timeless charm and historic significance. Long may the reign of Royal Purple continue in our hearts and our creative expressions!
Cherry Blossom Red: The Color of Playfulness and Style in Design & Fashion
Unraveling Mellow Yellow: Symbolism, Culture & Design