Introduction
Ultramarine: a color that enchants, captivates, and inspires. Revered by artists and designers alike, this vibrant shade of blue, with its hint of violet, has long been a cornerstone of the creative world. In this article, we delve into the compelling journey of ultramarine, exploring its historic origins, its symbolism across cultures, and its prominent role in art. We'll also provide some practical tips for using ultramarine in your design projects, offering insight into how this hue can elevate your creations.
The Impact of Ultramarine Blue in the Art World
Ultramarine's profound influence on the art world is undeniable. Its introduction to the Western art scene in the Middle Ages marked a revolutionary moment, forever changing the artistic landscape. Renowned artists, from Renaissance masters to contemporary painters, have embraced ultramarine for its captivating depth and intensity.
During the Renaissance, ultramarine was often more precious than gold due to the cost of its source material, lapis lazuli, a semi-precious stone imported from mines in Afghanistan. This lavish expense meant it was typically reserved for the most pivotal parts of a painting, such as the Virgin Mary's cloak in religious artworks. The vibrant blue echoed the heavens, adding a divine touch and highlighting its subject's importance.
In the modern art era, ultramarine took center stage once more, most notably in Yves Klein's work. His signature "International Klein Blue," a deep, matte version of ultramarine, is testament to the color's enduring appeal and its capacity to evoke profound emotion.
Unveiling the Rich History of Ultramarine
The history of ultramarine is as fascinating as the color itself. Its name, derived from Latin, means "beyond the sea," referencing the lengthy trade routes from the East to Europe. As we've seen, during the Middle Ages and the Renaissance, its rarity and cost made it a symbol of luxury and status.
However, the 19th century brought a significant development: the invention of synthetic ultramarine. This technological breakthrough made the color accessible to a broader range of artists and sparked a democratization of this stunning hue, amplifying its influence across various artistic movements.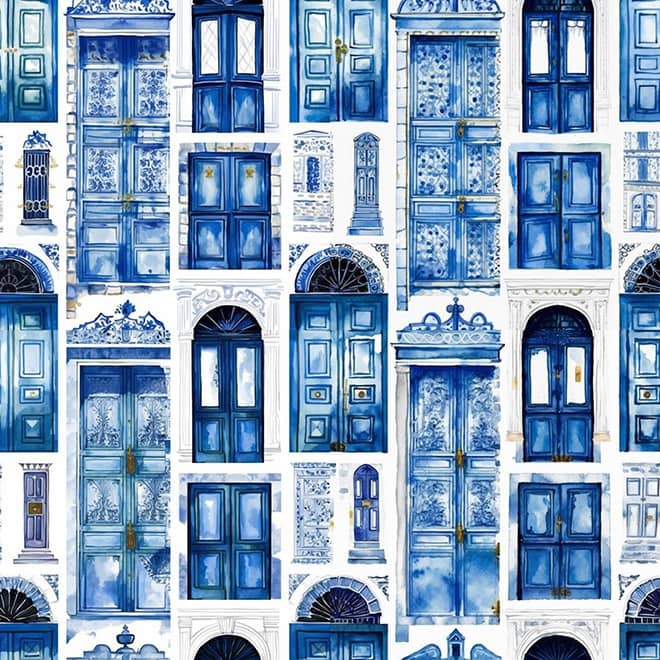 Deciphering the Symbolism of Ultramarine
Across cultures and contexts, ultramarine carries rich symbolism. It is often associated with tranquility and depth, mirroring the calming expanse of the sea and sky. However, its vibrancy also evokes a sense of power and majesty.
In religious contexts, it represents truth and divine wisdom. Its association with the Virgin Mary, in particular, underscores this spiritual symbolism. In a broader sense, ultramarine's inherent luxury and rarity have made it a symbol of wealth and power.
In the realm of color psychology, ultramarine is linked to open communication and clarity of thought. Its soothing nature is believed to aid concentration and inspire creativity, making it a favored color in spaces designed for thought and contemplation.
Ultramarine in Design: Practical Tips and Techniques
Now that we've explored the history and symbolism of ultramarine, how can you apply this knowledge to your design projects? Ultramarine, with its unique balance of tranquility and intensity, is an incredibly versatile color.
In graphic design, it can serve as a powerful accent color, adding depth to a design without overpowering other elements. For interior design, it can create a striking focal point or a serene backdrop, depending on its usage. Ultramarine pairs well with a broad range of colors: consider pairing it with whites or greys for a modern, sophisticated look, or with warmer hues like gold or burnt orange for a bold, dynamic contrast.
In digital design, ultramarine can create a striking and memorable user interface. Its deep, engaging hue makes it an excellent choice for calls to action, as it can attract and hold a viewer's attention. But remember, balance is key. Overuse can be overwhelming, so use ultramarine strategically to highlight important elements.
Fashion designers also utilize ultramarine to create bold statement pieces or to add a pop of color in a neutral ensemble. It's a color that inherently draws the eye, creating a sense of allure and intrigue.
Regardless of the context, ultramarine carries an air of creativity and expression, making it an exciting addition to any design palette.
Conclusion
From its historic roots and artistic impact to its rich symbolism and practical application, ultramarine is a color of depth and versatility. Its journey from precious pigment to a democratized shade in art and design underscores its enduring appeal and significance.
The power of ultramarine extends beyond its vibrant hue. Its ability to evoke emotion, its links to spirituality and power, and its practical potential in design are aspects that make ultramarine more than just a color. Whether you're an artist, designer, or simply someone who appreciates the beauty of color, ultramarine offers endless possibilities for exploration and creativity.
In the canvas of life, colors play a vital role in expressing our emotions and perceptions. As we've seen, ultramarine is one such color, carrying a narrative woven through history and culture. So, we invite you to experiment with ultramarine, delve into its depth, and see where this captivating color takes you and your creative journey.
Exploring Tangerine Orange: From Vibrant History to Cultural Symbolism
Embracing a Warm Color Palette: Finding Comfort in Edward Hopper's Solitude