Introduction
A burst of energy, a tangy zest, a vibrant hue that catches the eye – welcome to the world of Tangerine Orange. This lively color, named after the sweet citrus fruit, is a shade that embodies vitality, warmth, and excitement. In this article, we will journey through the engaging history of Tangerine Orange, discover its Pantone color codes, delve into iconic paintings featuring this lively hue, and unveil its cultural and symbolic significance.
The Vibrant History of Tangerine Orange
The Tangerine Orange color, much like the fruit it's named after, has traveled a long journey through history and across continents. The tangerine fruit originally came from Southeast Asia and was named after Tangier, a port in Morocco, which was a crucial point in the tangerine's trade route to Europe. As the fruit became popular, so did its distinctive, vibrant color, leading to the coining of the term "Tangerine Orange."
In the late 19th and early 20th centuries, Tangerine Orange began to show up in textiles and ceramics, especially in the Art Nouveau movement, where nature-inspired designs and bold colors were favored. The color represented exoticism and luxury, both popular themes in the movement.
The use of Tangerine Orange exploded in the mid-20th century. In the 1960s and 70s, it became a defining color of the era's bold and psychedelic design style. From fashion to home décor, Tangerine Orange was everywhere. It was a color that embodied the spirit of change, optimism, and liberation that characterized these decades.
Interestingly, Tangerine Orange had another surge of popularity in 2012 when it was named Pantone's Color of the Year. Dubbed "Tangerine Tango," this color was described by Pantone as a "spirited reddish-orange" that provided "the energy boost we need to recharge and move forward." This decision reflected a trend in fashion and design towards brighter, more energetic colors.
Today, Tangerine Orange continues to be a popular color in design. It's a favorite in graphic design, fashion, and interior design, where it's often used to draw attention and create a sense of excitement or enthusiasm. The color's rich history and cultural associations add depth to its visual appeal, making it a fascinating hue to explore and work with.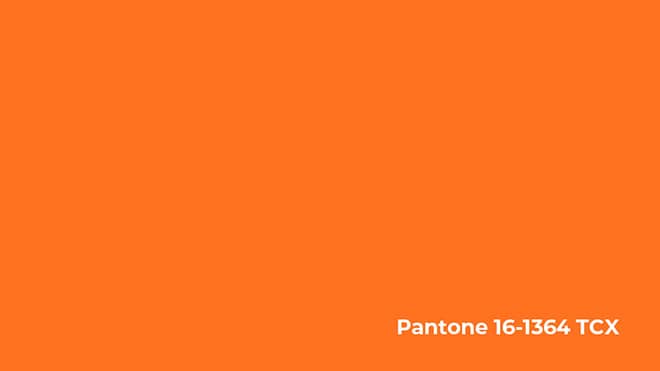 Pantone Color Codes for Tangerine Orange and Similar Shades
Pantone, the global authority on color, has several shades that capture the essence of Tangerine Orange. Here are some that closely match this refreshing hue:
Pantone 16-1364 TCX – A close match, this Pantone shade captures the zest and vivacity of Tangerine Orange.
Pantone 16-1356 TCX – A bit more intense, this shade resembles the vibrant peel of a ripe tangerine.
Pantone 15-1264 TCX – This shade is a softer, slightly more muted version of Tangerine Orange.
Remember, Pantone periodically updates its color library, introducing new colors and retiring older ones. These Pantone colors may vary depending on the medium or application, but they offer a good starting point for your Tangerine Orange explorations.
Iconic Paintings Featuring the Color Tangerine Orange
Artists have long been drawn to the vitality and warmth of Tangerine Orange. It has found its way onto the canvas of numerous paintings, adding depth, energy, and emotion. Here are some notable examples:
"Les Alyscamps" (1888) by Vincent van Gogh: The autumnal scene of this painting showcases the artist's love for intense color, with Tangerine Orange leaves creating a vivid contrast against the cool blue sky.
"The Dream" (1910) by Henri Rousseau: This surreal jungle scene features a woman reclining on a couch amidst exotic flora and fauna, with Tangerine Orange accents adding a pop of color to the lush greenery.
"Dance at Bougival" (1883) by Pierre-Auguste Renoir: Renoir's depiction of a couple dancing uses Tangerine Orange in the surrounding foliage, adding warmth and vivacity to the scene.
Symbolism and Cultural Significance of Tangerine Orange
The color Tangerine Orange is rich in symbolism. Its association with the fruit links it to themes of health, vitality, and rejuvenation. In color psychology, Tangerine Orange is often associated with creativity, invigoration, and adventure, embodying an essence of joy and social interaction.
In Asian cultures, particularly Chinese, the tangerine fruit and, by extension, the color are symbols of good luck and prosperity. They are prominently displayed and gifted during the Lunar New Year celebrations, making Tangerine Orange a significant color in these cultures.
In the world of fashion and design, Tangerine Orange is a go-to for injecting energy and a playful spirit into a piece. It's a color that can stand boldly on its own, yet also blends seamlessly with a range of other hues, making it a versatile choice for designers.
Conclusion
Tangerine Orange is more than just a shade on a color wheel; it's a hue bursting with history, symbolism, and cultural richness. From its roots in Southeast Asia to its influential role in the art and design world, this vivid color tells a story of energy, vitality, and joy.
As we've seen, Tangerine Orange isn't just for the canvas or the catwalk. With its Pantone color codes, you can bring this vibrant color into your own designs and projects. So why not add a slice of Tangerine Orange to your life? It might just be the zest you need to spark creativity and embrace the unconventional.
Whether you're an artist, a designer, or simply someone who loves color, we hope this exploration of Tangerine Orange has left you with a greater appreciation of this dynamic hue and its place in our world. Remember, the world is a canvas, and every color tells a story. So keep exploring, keep creating, and let the story of Tangerine Orange inspire you on your journey.
Embracing a Warm Color Palette: Finding Comfort in Edward Hopper's Solitude
Chrome Yellow: The Vivid History and Timeless Appeal of a Radiant Hue