Introduction
In the ever-evolving realm of artistic expression, fashion consistently stands at the precipice of innovation. The industry has always been at the forefront of integrating art with science, tradition with technology, and the familiar with the future. At this juncture, one of the most revolutionary innovations taking place is the rise of 3D printed high fashion. As this innovative fashion technology rapidly gains traction, we're compelled to consider its implications for the future of couture. Let's take a deep dive into this intriguing intersection of technology and high fashion.
The Intersection of 3D Printing and High Fashion
The convergence of 3D printing and high fashion is an exciting frontier that effortlessly blends the meticulous artistry of couture with the precision, adaptability, and scalability of cutting-edge technology. Historically, couture, the pinnacle of custom fashion design, has been a labor-intensive process. It requires countless hours of hand-stitching, tailoring, and fitting to create a single piece that fits the wearer like a second skin. With the advent of 3D printing technology, this process is being radically reimagined.
3D printing technology in couture allows designers to create complex, intricate pieces that previously would have been exceedingly time-consuming, if not impossible, to produce. This innovation opens up a new world of possibilities, enabling designers to create unique textures, shapes, and structures that push the boundaries of what traditional fabrics can do.
But this groundbreaking intersection of technology and fashion is about more than just novelty. It also introduces an element of improved functionality. With 3D printing, designers can prototype and refine their designs in a digital environment before committing them to physical form. This approach significantly reduces material waste and increases efficiency, paving the way for a new era of sustainable fashion.
Notable Designers Embracing 3D Printing in Couture
Several forward-thinking fashion designers are leading the charge in integrating 3D printing into their couture collections. Among these visionaries, Dutch designer Iris van Herpen stands out. Known for her avant-garde creations, Van Herpen's work beautifully fuses traditional craftsmanship with advanced technology. She frequently incorporates 3D printed elements into her designs, challenging the conventional norms of high fashion and pushing the boundaries of what materials and forms couture can incorporate.
Another trailblazer in the realm of 3D printed high fashion is Israeli designer Danit Peleg. Peleg made global headlines when she unveiled an entire ready-to-wear collection created solely through 3D printing. Her groundbreaking work underscores the potential for 3D printing technology to democratize fashion by enabling localized, on-demand production. This approach could revolutionize the fashion industry, shifting it away from mass production and towards more personalized, sustainable methods.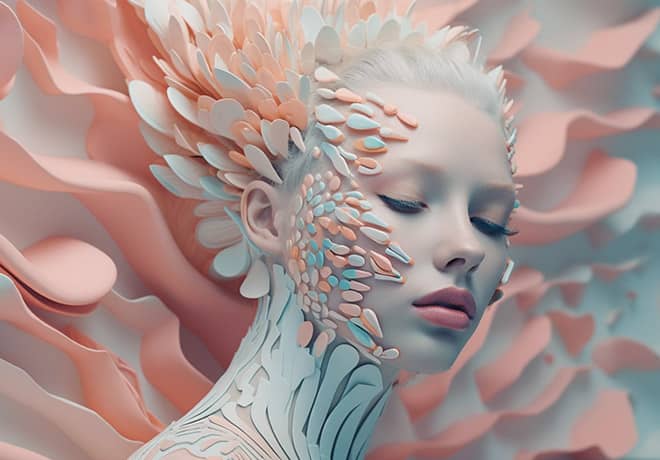 The Impact and Future Potential of 3D Printed High Fashion
3D printed high fashion represents a transformative movement within the fashion industry. By offering unprecedented design freedom, reducing production waste, and enabling a high degree of personalization, 3D printing technology is reshaping how we conceive and create couture.
The future implications of this shift are profound. Envision a world where fashion is not constrained by geographical boundaries, where mass production is replaced by individualized creation, and where your wardrobe can be as unique as your digital fingerprint. Imagine a fashion industry where sustainability isn't just an afterthought but is woven into the very fabric of the clothes we wear. This is the promise of 3D printed couture.
As we venture further into the 21st century, we can expect to see an increasing number of fashion houses and designers incorporating 3D printing into their repertoire. As they do, they'll be able to offer consumers a level of customization previously unheard of in the fashion world. From precise body measurements to choosing unique color combinations and patterns, the future of fashion could very well be tailored to each individual's specific tastes and preferences.
This shift isn't just about creating unique pieces; it's also about addressing some of the significant challenges that the fashion industry currently faces. With traditional methods of clothing production contributing significantly to global waste and pollution, the promise of a more sustainable approach to creating couture cannot be overstated. By reducing waste and enabling on-demand production, 3D printed high fashion could play a crucial role in making the fashion industry more eco-friendly.
Conclusion
As we have explored, the integration of 3D printing into high fashion isn't a mere possibility—it's a reality that's unfolding before our eyes. This innovative fashion technology is pushing the boundaries of design and revolutionizing the way we perceive and engage with couture. As we stand on the cusp of this brave new world, there's little doubt that 3D printed couture will continue to shape and redefine the narrative of fashion innovation.
In the realm of haute couture, the printer is rapidly becoming as essential a tool as the needle and thread. This paradigm shift heralds a new era of creative expression and personalized style. The revolution is here, and it's being printed in 3D. As we look to the future, we can't help but be excited about the endless possibilities that this technology presents. From reimagining design and production processes to creating a more sustainable and inclusive fashion industry, 3D printed high fashion is not just revolutionizing runways—it's poised to change the world.
Eco-friendly Art: How 3D Printing Transforms Sustainable Design and Green Art Techniques
Unveiling the Beauty of Innovative Materials for 3D Printed Art